First of all, this page takes a bit to load, so, wait 30 seconds and then click here. Thanks for being patient.
CLICK ON ANY OF THE PICTURES FOR A BIGGER PICTURE !
Ok, you asked for it. Here are a couple more pretty bad shots of us.

Heres our happy home, right in the middle of construction. the right side is done, The left side is about to be done. This picture is about 6 years old and it's finished now, so, next time the guy in the airplane comes by, we'll have a more up to date shot.
I found a real old picture of my wifes family, (1979) get a load of this one. My wife (Sue) is on the right. Shes holding Adam . He's 19 now, and the little girl in front is Tracie.

The baby with my sister in law (Cathy) is Mark. David is in the middle and Mr. and Mrs. Clark are in the backround. This is Marks homepage, and this is Adams homepage.
Hey, heres one of us in 1961

when you enlarge it, thats Leah, Toni, Michael, Kathy and me. Nina was in the oven <G>.
Now, along the road, my brother got married, so we all went up to Vermont, (even though he lives in NY and Conn) to my sisters house so he could get married.(????)

Anyway, youngest on the bottom, Nina, Michael, Leah (her house), Kathy, me and Toni.
Guess what, Toni, Kathy, Leah and Nina had kids too, so, even though I didn't have time to find pictures of their significant other halfs, I thought I might as well show the kids.
This is Mundai, Toni's daughter with Tracie

And, here's Harley, Mundai's daughter. Just out of the oven. I need a new one Mundai !! WALA a new one 9/6/97 !!
Here's Rose, Kathys daughter.

Here is Lucy and Lily, Leahs daughters. Lily is in the box while her mom looks on.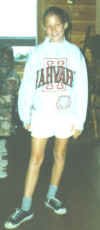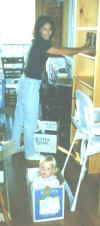 It's always snowing in Vermont, so the pictures all come out white.
Nina has two kids too, Eden

and Zachary.

Well, a picture of them all together, and only about a year old would be in order, don't you think??

Ok, top left it Mark,Tracie, Tamara (used to be Bethany, but, kids......you know).Oh, sorry, Tamara is Dave's daughter. Center is Adam, Mundai, Kevin. Bottom, Rose, Lucy and Zachary. Now, remember Cathy and Dave before. This is what they look like now !

. Yup, things change. So, my mom deserves a spot, don't ya think?? Here she is with my Step-Father Hank and you know who !

Now I have in-laws thru the marriage of my daughter, so meet them !! James and Rosalind Lewis.

Ok, did i leave anybody out?? Let me look. Oh my, how about another new one of the grandkid. ??. ok, thanx for asking !!

Well, that leaves me and Sue. For now. The last time we danced was at Sues Senior Prom. I stepped on her dress and ripped it. We haven't danced since. However, at Tracie's wedding the photographer wanted a shot or two of us doing something, so we stood up and made it look good.

Well, thats all for now. I am going to put more in here as soon as my brother and sisters see this page, I'm sure I'll be overloaded with shots. Anyway, if you read this as slowly as I did, then the music is over and so is this page, so, if you want to go on to our Disney Adventure, be my guest. Thanks for coming !!