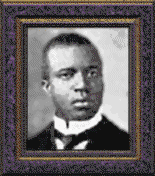 Scott Joplin
As far as I'm concerned, the King of Ragtime, but, more importantly, the start of the modern music movement. Big Band, Blues, jazz, and rock and roll. Look closely into his style, everybody copies from Scott.
Of course we have to mention Joseph Lamb and James Scott. 99 % of all files contained here are from these three gentlemen.
There are over 100 songs listed here, all within 4 zipped files. I have listed each contained within.
ALL Scott Joplin songs are here !!!!!
If you want to know more about these composers go to the ragtimers page.
The songs I've been playing on my piano are: Original Rags, Maple Leaf Rag, Elite Syncopations, The Easy Winners, The Entertainer, Weeping Willow, Pine Apple Rag, Paragon Rag and The Chrysanthemum. If you want to hear me, the listed songs (played by other composers) sound just like me. Same score, so, what would you expect !!
If you have songs that I don't, please send them to me-email. Thanx
All zips are about 100 to 160k. If you need a zip program, go here.

a-n joplin zip. Includes the following:
Antoinette, Augustan, Bethena, Bink's Waltz, Breeze from Alabama, Cascades, The Chrysanthemum, Cleopha, Combination March, Country Club, Easy Winners, Elite syncopations, The Entertainer, Eugenia, Euphoric, Favorites, Felicity, Fig Leaf, Gladiolus, Great Crush Collision, Treemonisha 1&2, Harmony, Heliotrope Bouquet (2), Kismet, Leola, Lily Queen, Magnetic, Majestic, Maple Leaf, New Rag, Nonpareil Rags.

o-z joplin zip. Includes the following:
Original, Palmleaf, Paragon (playing in the background), Peacherine, Pine Apple, Pleasant Moments, Rag Dance, Reflection, Rose Bud, Rose Leaf, School of Ragtime, Searchlight, Sensation, Silver Swan, Solace, Something Doing, Stop Time, Strenuous, Sugar Cane, Sunflower, Swipsey, Sycamore, Treemonisha Overtures, Wallstreet, Weeping Willow Rags.

a-g Lamb-Scott zip. Includes the following:
Twelvth St. Rag, 203rag, Agitatio, Amerbuty, Aparrot, Batuque, Bees_wax, Bohemia, Broadway, Carolina, Champagne, chickenchow, Colesmoke, Cotten Rag, Creoleb, Crazybone, Czarina ( a real good one), Dixiblossom, Don't Jazz Me, Efficency, Evergreen, Excelsior, fashion, Froglegs, Gmarag, Great Scott.

h-z Lamb-Scott zip. Includes the following:
Hilarity, Honktonk, Hoopy, Huckfinn, Kansas City, Mississippi, Mypet, Newera, Original, Paramount, Patricia, Peaceplan, Pearl, Pegasus, Ragdance, Ragntgle, Rgoriole, RialtoRipplesRag, Russpony, Sockhop, Sparklin, Stormking, Sunburst, Twelveth Street Rag, Victory
So, you don't have to dig around, search everywhere on the net, you too can have all of Scott Joplin right here !!
If I listed something twice, please let me know. Thanx